Architectural frames
Concerned about detail, Métalec designs its architectural frames according to quality manufacturing and finish standards that meet the requirements of the industry professionals.
From their design, these frames can be manufactured in various ways: door frame with side lite or transom. They are also available in window frames. For standard or custom profiles, Métalec can supply architectural frames suitable for any project.
TECHNICAL DETAILS
The architectural frames are manufactured using 18, 16,14 or 12 gauge galvanized steel;
The joints and corners of the architectural frames are welded and sanded on the surface and covered with a primer;
Glazing beads are cut, adjusted and fixed in the openings with an oval head tapping screw.
The frame anchors are welded or supplied with the frame according to the wall composition;
The frames are prepared to receive the specified hardware.
A 20, 45 or 90 minute fire rating is available upon request;
The architectural frames, made using 16 or 14 gauge steel, are also available with a thermally broken profile for the outside openings. All of the mullions and midrails are insulated in factory with a fiberglass insulating material before the final assembly. When the assembly is done, a latex sealer is applied on the outside horizontal assembly joints to eliminate possible water infiltration.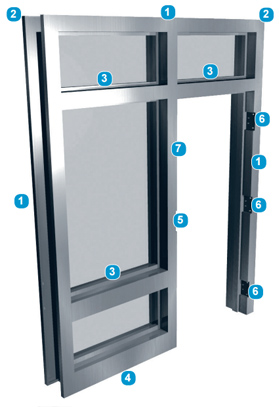 Several types of anchor:

1- Perimeter
2- Corner assembly
3- Midrail
4- Bottom perimeter
5- ANSI A115.1 strike preparation (ASA)
6- 10 gauge hinge reinforcement
7- Mullion
N.B.: Other hardware preparations are also available upon request.