Thermal break frames
Métalec manufactures steel frames designed specifically for the exterior openings, adapting perfectly to the climatic fluctuations.
The thermally broken frames are manufactured in two parts separated by a low thermal conductive PVC flashing which eliminates thermal bridge.
The two parts are retained together by a Z-shaped steel reinforcement eliminating thermal bond between the exterior and interior door frame faces.
TECHNICAL DETAILS
The steel frames are manufactured using 16 or 14 gauge galvanized steel;
The frames are supplied knockdown or welded;
The frame anchors are determined according to the type of installation and wall composition;
The frames are prepared to receive the specified hardware;
The single openings have three rubber bumpers per strike jamb and the double openings have two rubber bumpers on the head.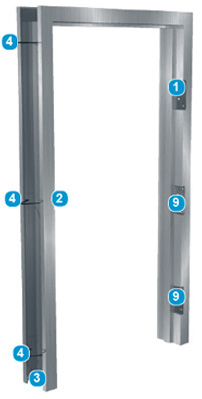 Several types of anchor:
1- 10 gauge angular hinge reinforcement
2- ANSI A115.1 strike preparation (ASA) –
3- Floor anchor (ATT #3)
4- Masonry wall anchor(ATT #5)
5- Existing wall anchor (ATT #6) /p>
6- Steel stud anchor (ATT #8)
7- Masonry wall anchor (ATT #4)
8- Wood stud anchor (ATT #7)
9- 10 gauge hinge reinforcement
N.B.: Other hardware preparations are also available upon request.